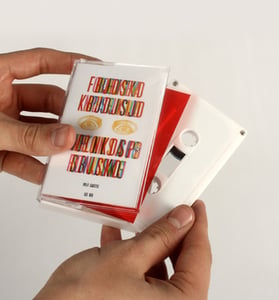 £

3.00
After a huge mix up when we first put these out we were forced to refund everyone who had bought one. Due to this we have been left with a small number of these extremely rare and collectable tapes.
A. Betty Pariso
1. Eat It
2. Fuck You Die Slow
3. Tear Them To Shreds
B. We'll Die Smiling
1. Based On The Truth... And Lies
2. Just For No Reason At All
3. I Haven't Even Started Yet
Red, White and Blue cassettes and optical illusion artwork that comes with coloured acetate decoder to read the text.
All orders posted next day. We ship worldwide.